MEET DEBBIE
"The Enterprise"
October 10, 2001
by Paul C. Leibe
Dunlap builds a 400-page web site in tribute to Cary Grant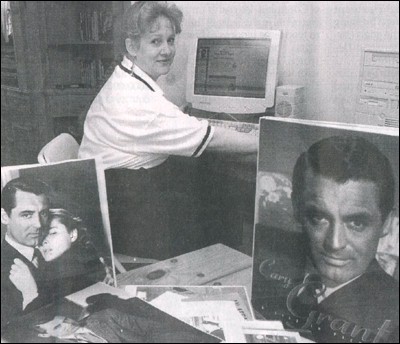 What started out as a family joke has, in the past few years, turned into a big part of Debbie Dunlap's life. Every evening the Great Mills resident spends at least two hours at her computer, fine-tuning her web site and responding to emails sent to her from all over the world.
Dunlap's web site -- www.carygrant.net -- is a tribute to the life and works of the popular actor. Dunlap works as a webmaster, maintaining the online sites for 30 to 40 area businesses. She started the Cary Grant site about four years ago after her husband jokingly suggested that she build a site to her favorite actor.
"About nine years ago," she explained, "we turned off our cable. We were watching too much television. I started looking for movies to rent, movies for the whole family to watch together. I found two Cary Grant films at a local video store, brought them home and we loved them. Then I went looking for more at all the stores in the area.
Eventually I got online and started checking sites for more movies," she continued, "and, in doing so I got more interested in Cary Grant the person. I started gathering all the information I could find about him."
One evening about four years ago, she said, her husband, as a joke, posted a picture of Cary Grant on a web site and suggested that his wife build a tribute page around her favorite actor. Dunlap accepted the challenge and soon had four pages dedicated to Grant.
Now, four years later, her site is one of the most comprehensive and largest Cary Grant sites on the Internet. It contains more than 400 pages of information, photographs, biographies, sound and movie clips, a filmography and other topics. "I'm getting about 50,000 hits [visitors clicking onto her web site] a month," she said.
Because of her web site, Dunlap has received e-mails and telephone calls from people who were either looking for more information about the actor, passing information along to her for inclusion in her site, or just complimenting her on her efforts. "I even did a live telephone interview on the BBC [British radio] recently," where she talked about her web site, she said. "There's a five hour difference in time zones, so I had to stay up until 3 a.m. to be on their morning show."
Dunlap has collected on videotape, all 72 of Cary Grant's films. "I want to preserve these films as much as I can," she said. "I would like to put them on DVD because, even though they're on tape now, the tapes are degrading just sitting there." Dunlap has also collected photographs, posters and other memorabilia from 60 of Grant's films, and is hoping to acquire at least one item representative of each of his films.
Dunlap said that her ever-growing hobby has been a labor of love.
"A labor-intensive labor of love," she said.