TESTIMONIALS
To Future Small Business Owners:
We were giving Debbie's name from a friend of ours who had used Debbie to create her medical practice's website. When I asked my friend who to use for our new business' site, she immediately and without hesitation, recommended Debbie! And now I know why. From the moment we first spoke on the phone, Debbie has been patient, helpful, professional and efficient. She created a beautiful site for our mental health center, one that completely represented who we are and what we wanted parents to find when they went looking for us. She was excellent at making our "vision" come to life. She was also patient with me, since I lack technological savvy. She made edits quickly and correctly. She is available and responsive. Debbie has been a pleasure to work with and continues to support us as our site continues to evolve as our business grows! Thank you, Debbie!
---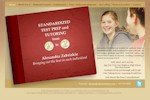 Where do I begin? First of all, Debbie is patient. For a techno-novice like me, Debbie answered all my questions, addressed all my concerns, and installed all my requested changes - unless she disagreed with them, which I really appreciated hearing since I needed the feedback. So she is also honest. And kind. Oh, and did I mention creative, imaginative and fast? Her turnaround time was ridiculous! We did most of our collaboration over the usually impersonal email, but her personality and professionalism came through anyway. I am so excited with my new website and will be forever grateful to Debbie for making it happen. She is an absolute joy to work with.
- Alexandra Zabriskie, New York City
www.AtoZTutor.com
---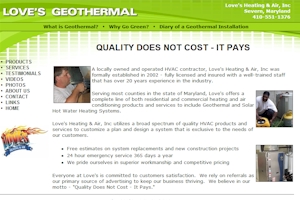 I am writing this letter as a testimonial to the service provided by our web designer, Mrs. Debbie Dunlap.
We first met Debbie in June 2008, when she contacted our company for an estimate to install a new geothermal system in her home. She was very excited about the prospect of cutting her then, very high energy bills, almost in half with a new geothermal system. Fortunately, after meeting with several contractors, and despite the distance (she was over two hours from us), Debbie chose our company to perform the installation.
We hadn't even started work when Debbie offered to design and build our website (we had none at the time) at a fraction of what a normal web designer would charge. She immediately began to offer ideas and took it upon herself to document the geothermal installation, producing "a diary", which was later posted to our website and dubbed "A Diary of a Geothermal Installation". The diary has become quite popular and has ultimately helped expand our geothermal business. To this day, it continues to help in our sales, and continues to drive traffic to our site. A truly brilliant idea!

After the website went live, it didn't take long for us to realize what we had been missing, and the importance of having a website for our business.
The site, which was being monitored by Debbie, was getting viewed. Sales were up, and our telephone was ringing as a direct result. Until that time, we were somewhat "primitive" as we had nothing to validate our business as a viable company, other than a very expensive and re-occurring yellow page ad.

Debbie's service didn't stop there. After the site was up and running, she continued to "tweak" the site and was constantly offering suggestions and recommending changes to further expand and increase our internet traffic.
She spent countless hours "brainstorming" about the content that should (and should not) be posted, and never hesitated to go the extra mile to help us and/or do her own thing to improve our presence. She never hesitated to change something and/or add something additional - all done promptly (within 24 hours) upon request.
In conclusion, we are very happy with the professional service performed by Mrs. Dunlap. She is very personable, and genuinely cares about her clients success. She provides the upmost in customer service, has an extensive amount of experience, is very patience and understanding, and is professionally and personally a great person to work with. We are very much pleased with everything she did, and continues to do for us, and would highly recommend her to anyone who is interested in getting a site, or who
already has one and wants to improve it.
C. Love
Love's Heating & Air, Inc.
P.O. Box 396
Severn, MD 21144
Office: 410-551-1376
Fax: 410-551-2157
www.lovesgeothermal.com
Visit our website and view our "Diary of a Geothermal Installation"
---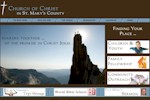 I had already gone through the process of building a website with another designer in a previous endeavor and was pretty skeptical, because everything that I thought I wanted did not look good. It wasn't that my ideas were bad or that their designing was bad it was that they were using my design ideas.
When I started working with Debbie, all of my problems disappeared. What I liked about Debbie is that she would listen to my idea for content and all of my "big ideas," and then she designed the site. She left the content to me and didn't let me ruin my own site with my design.
But the strange part is that the website looked EXACTLY like I wanted it to. And that is Debbie Dunlap's gift. When you look at the site…you are looking at yourself. She captures the maker's personality, ideas, and motivation and displays it visually to the world.
When you are looking for a website maker, you need someone who will not only tell you their honest opinion about what you want, but one who will also take what you want and enable it to make sense to your readers. I had looked at other church sites for weeks to get ideas and after ONE session with Debbie showing her what I did and did not like, she had captured the picture that I had in my head. She would send me ideas and I loved them. Debbie doesn't guess what her clients want. She knows. And I never had any doubt that it would turn out as well as it did. But she's not only good at what she does, she's a great person to work with. Her constant communication, quick responses to emails, and contagious laugh made it fun for everyone involved.
So if you have something that you love, but don't know how to share it with others on the web. Don't worry.
Debbie does.
Adam Tune
Minister, Church of Christ in St. Mary's County
---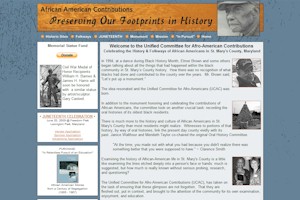 Debbie Dunlap was wonderful to work with on our website. I don't think we could have chosen a better person to design our new website. All I needed to do was give Debbie the information and she could put it down on paper, just the way I was thinking. It was like she was reading my mind. She worked tirelessly putting the site together, we came up with a target date that we wanted to roll the site out and she delivered right on time. I have had numerous compliments about the quality of the work and the ease of navigating the site. Debbie was patient working with me due to me having very little knowledge of web design. I would recommend Debbie's work to anyone interested in developing and maintaining a site. Lastly, for small organizations and businesses her prices are reasonable.
Mike Brown
Vice-President
Unified Committee for Afro-American Contributions
---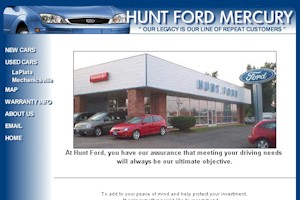 Debbie Dunlap has been taking care of our websites since 1997. She is very creative, hard working, responds quickly and she is very easy to work with.
I would recommend Debbie to anyone that is interested in an attention-getting, professional website.
Butch Hunt
Hunt Ford, LaPlata, MD
Hunt Ford Used Cars LaPlata (Spring Hill, MD)
---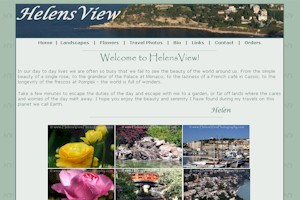 When I wanted to take my photography to the next level and create an on-line site to share my love of nature and travel photography with friends and the world, I called on Debbie. I wanted a light, friendly site that was easy to maneuver - one that would show off the photography. By asking me a few important questions, she took the vision in my mind and designed/created the perfect showcase for my photography. Every time I thought the site couldn't get any better, Debbie came up with a new idea that just blew me away. Others I had contacted said it would take 6-8 weeks to have a new website up and running. Debbie had my site designed, built and on the web in 3-4 weeks. Once I got the content and photos to her, they were added and up on the site. (I personally think she uses a magic wand!)
I highly recommend Debbie to design, build and create a website for you. You will NOT be disappointed, and will be singing her praises just as I do.
Helen Fredericks
---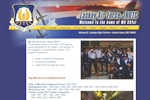 Debbie Dunlap has done a magnificent job maintaining Henry E. Lackey Air Force JROTC website. The meticulous, thorough, detailed up-keep of the web page speaks volumes of her abilities. When asked to update any particulars concerning the webpage, Debbie does it without hesitation. I would recommend Debbie to anyone looking to maintain a quality webpage; her exceptional work speaks for herself.
Charles L. Gilbert, Col, USAF (Ret)
Senior Aerospace Science Instructor
Henry E. Lackey High School
Indian Head, Maryland
---
Dear Debbie,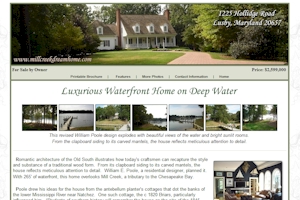 I wanted to take some time to put into words how thankful I am that I once again utilized your company to create my webpage. The entire process from start to finish was seamless. I appreciate that you listened to my thoughts and vision, and added your own expertise and creativity to make my vision a reality. You were not only timely in preparing the website itself, at a point when time was of the essence for me, but you never missed a beat with following up with me about specific items I wanted to include and what pictures you thought were most appealing. You have a way of taking a person's thoughts and organizing and developing a website that is professional, user friendly, and eye-catching. Even now that I am happy with the final product, and have already received both interest and compliments, you are always willing to further develop and embellish at my request.
Once again, I am so pleased to have worked with you to develop my website, and look forward to working with you in the future and recommending you to friends and associates.
Sincerely,
Linda F. Clark
---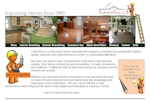 Debbie Dunlap has turned our website upside down and inside out and it is looking better than ever! She has that talent for creativity and that eye for detail that was just what we needed. We are so excited about our website and all the new interest it is generating in our business. Thank you, Debbie!
Tim & Debbi Carter
---
Debbie Dunlap has been servicing our web site since its inception in 2005. When we were completely ignorant about how to establish a presence on the Internet, Debbie confidently took the reins and brought our project from the drawing board to desktops all over the country. Her knowledge, expertise, creativity and can-do, cheerful attitude have given us a strong presence in the world of e-commerce. We are grateful for all that she has done and continues to do to make our company stronger.
Rob Keegan
President
Village View Lighting, Inc.
Simi Valley, California
---
Debbie Dunlap created a very professional website that has delivered results. The service is superb, fast and accurate. She always puts the customer first. A simple "thank you" does not cover the gratitude I have for Debbie. I told her that I wanted a web site that would blow people away, and that is just what she did!
I would like for everyone who reads this to know that I would recommend Debbie Dunlap's Web Services to anyone who wants an A+ web site at a fair price. I feel very fortunate to have found her.
On behalf of The Island Salon and Spa & myself, we are forever indebted to you for taking such good care of us!
Regards,
Lesa Clark
---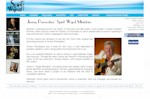 In 2007 I desired a web page and knew nothing about them. A friend told me about this lady who did his site and that I should call her. As time has gone on and I have worked with Debbie, I have found her to be a very understanding and patient person for those who know nothing about computers. She did an outstanding job on my site, gave great advice, and had some wonderful ideas.
I would highly recommend her to anyone who is looking to have a professional and insightful web page.
Spirit Wynd Ministries
---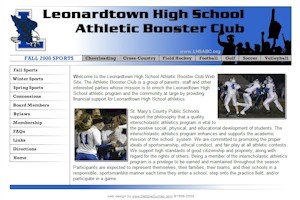 To Whom It May Concern-
Debbie Dunlap designed and created and maintains the Athletic Boosters website for Leonardtown High School. We have been extremely pleased with her services and her ability to respond to our requests so quickly. She has great ideas and displays the information in a way that parents and students can respond to very easily.
We really appreciate all of her hard work and dedication to our website. It's a great way for the club to communicate.
Thank you,
LHS ABC
Leonardtown High School Athletic Boosters Club
---
PowerPoint® & PHOTO MANIPULATION TESTIMONIALS
Debbie Dunlap has been designing the church's PowerPoint® Presentations for the last eight years. Weekly she designs a PowerPoint® Sermon Presentation that contributes to the Central Idea or Theme of the Sermon. The selected animation schemes, slide transitions, fonts, colors, and backgrounds give the presentation both a professional but personal touch. Whether for professional presentations (i.e. sermons, workshops, etc.) or personal presentations (retirements, birthdays, funeral, weddings, etc.), Debbie builds, designs, and creates a positive PowerPoint® experience that you won't quickly forget or fail to appreciate. She readily accepts and appreciates one's individual input while drawing on her own creative abilities. She has been a blessing to me.
Without hesitation, I recommend Debbie as a PowerPoint® Specialist and creative talent who will design a PowerPoint® Presentation according to your desires and expectations. Her PowerPoint® conceptions, constructions and creations reflect her exquisite giftedness.
LeRoy Finto, Minister and Shepherd
Church of Christ (California, Maryland)
leroy.finto@verizon.net
---
Debbie took great care and diligence with our project to produce a magnificent final product. She selected each picture with a vision of the final production using form and color to make each aspect of the honoree's life complete. The final presentation made you forget that these were still pictures but engrossed the audience into the person's life. She set the presentation to the music of our choice and created an enhanced program. Her works honors the person and makes what you are presenting so real and personal.
Earl & Sue Kauffman
Retirement PowerPoint
---
I had a picture of four of us. Unfortunately one of the people in the middle needed to be removed. But this was a precious picture because the other three people were my son and I -- and a celebrity. I asked Debbie with some trepidation if there was anything she could do. Not only did she take that fourth person out, but she was able to move my son over and 'repair' the background so that it appeared to be the original picture. And as an added bonus, she removed a stain from the sweatshirt I was wearing!!!! Debbie fixed the picture in nothing flat -- seriously, I emailed her and heard back almost instantly with a few questions and then a few minutes later I had a fixed, perfect picture. Over time Debbie has fixed several pictures for me, always graciously and quickly -- although I have to assume that the first one mentioned was the most difficult. ~ Jan Anderson
Here is another photo manipulation project I did for Ms. Anderson: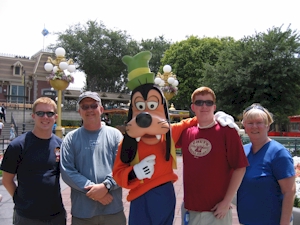 This photo is a composite of four photos:

| | | | |
| --- | --- | --- | --- |
| | | | |
| Son #1 & Husband | Goofy & Son #2 | Wife | Background |